Ingredients
Serves lots, depending on what you serve it with (enough for 4 at least)
50g butter
2 onions, sliced
1kg red cabbage, quartered and finely sliced
4 apples, peeled, cored and cubed
1 orange, zest and juice
100g brown sugar
3tbsp cider vinegar
300ml cider
This keeps exceptionally well. In fact, I often make it the day before I want to eat it to allow the flavours to marry.
It also freezes very well, so make a big pot and freeze half.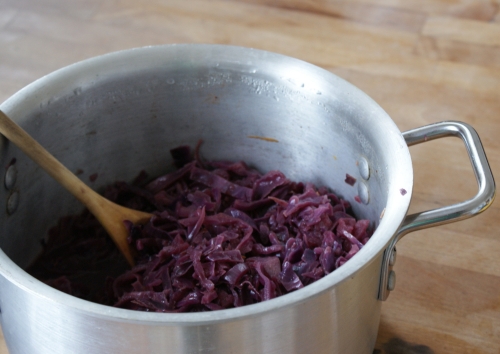 Braised Red Cabbage
We love this with sausage and mash as inspired by but it goes equally well with roast dinner, salmon and mackerel.
Recipe
Cook the onions slowly in the butter for about 10mins. Tip in the red cabbage and stir well.
Add the rest of the ingredients,kuvarsit watch stir well, cover and simmer for 1 hour.
Season well before serving.