Ingredients
Serves 4
125g puy lentils, cooked
250g brown rice, cooked
2 red onions, finely diced
5 tomatoes, diced
200g frozen peas, defrosted
100g sunflower seeds, toasted
1 small bunch parsley, chopped

Dressing
1 ½ tsp dijon mustard
1 ½ tbsp cider vinegar
4 tbsp olive oil
Make sure your cooked brown rice is completely cool before assembling the salad.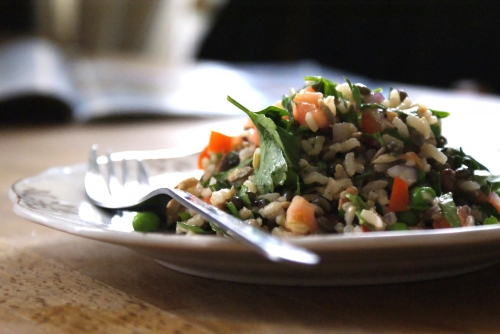 Lunchbox Brown Rice Salad
This salad is packed full of flavour and plenty of healthy things. Perfect for cooking at the weekend and using in lunchboxes for the rest of the week.

It would go perfectly with some roast chicken, fish or grilled haloumi.
Recipe
This is really just an assembly job, all the work goes into preparing the ingredients.

Mix all the salad ingredients in a large bowl. Whisk the dressing and pour over. Mix well and check for seasoning.