For Roasted Tomatoes you will need...
250g cherry tomatoes, sliced in half
1 clove garlic, finely chopped
1tsp sea salt
pinch soft brown sugar
1 tsp dried thyme or oregano
2tbsp olive oil.
Here's how...
A home made version of 'Sun blush' tomatoes, perfect in salads and pasta dishes. Simply prepare and leave to dry out in the oven.
Leaving them in a warm oven overnight, allows them to dry out completely, ready for marinating in olive oil
Preheat the oven to 220C.
tumble the tomatoes into an ovenproof tray, add the rest of the ingredients and give it a good mix with your hands. Make sure you leave all the tomatoes cut side up.
Put them in oven and turn it off, now let them dry slowly overnight or for a day without opening the door.
Substitute large tomatoes, cut into quarters if you don't have cherry tomatoes.
Keep in a jar covered in olive oil for a few weeks.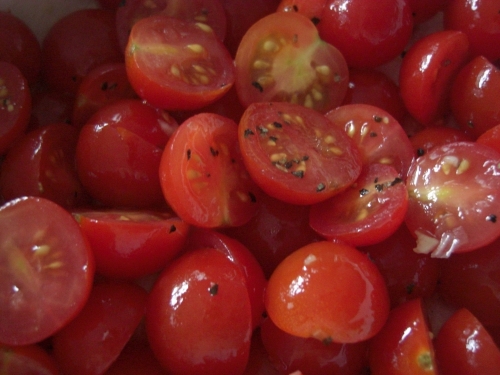 | | |
| --- | --- |
| | Try a vegetable box scheme if you want the freshest organic vegetables and fruit, delivered direct from farm to doorstep. |