Ingredients
Serves 4
400g organic floury potatoes
1 small green cabbage (savoy cabbage or kale also work well)
50g butter
1 clove garlic, finely chopped.
125ml milk, preferably warmed through
flour for dusting

To serve:
4 large, free range, organic eggs
2 cans baked beans
This makes a wonderful alternative to mash!
You could use brussel sprouts, cavalo nero and kale. Bear in mind that tougher leaves will require longer cooking.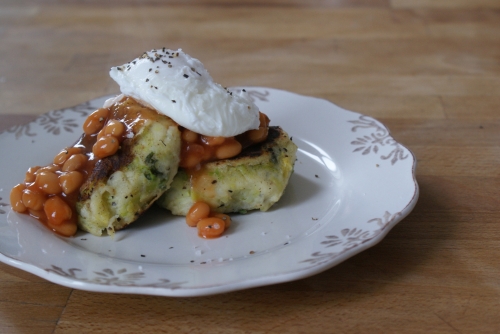 Bubble and Squeak
A fantastic way to use up leftovers, but definitely worth making from scratch too for a decadent breakfast or brunch.
Recipe
Peel the potatoes, cut into chunks and boil in salted water for about 20mins until very soft.
Drain well and either push through a potato ricer or mash throughly. Add the milk and half the butter along with lots of salt and pepper. Now you need to beat furiously with a wooden spoon to get a really smooth mash. Cover and set aside.

Meanwhile, half and quarter your cabbage, cut out the heart and slice as finely as possible. Boil or steam for about 5mins (this will depend on the type of cabbage used) until soft and drain. Heat the rest of the butter in a frying pan with a little oil until sizzling, add the garlic and the cabbage and fry for a few mins, season generously and stir the cabbage through the mash, making sure you get all the buttery juices in too.
To make the cakes, coat your hands in flour and sprinkle some onto a plate.Take a small handful of mash, roll into a ball and flatten, dip both sides in the flour and place into a hot frying pan with a little oil, fry for a few mins on both sides until golden and warmed through, you should get about 8 cakes.
Meanwhile warm the beans and poach the eggs.
To serve: Place 2 cakes onto a plate, top with a generous spoon of baked beans and perch the poached egg on top.