Ingredients
Serves 4-6
300g shortcrust pastry
2-3 large leeks, finely sliced
50g butter
200g frozen peas (or fresh peas when in season)
3 eggs
400ml cream
175g cheddar, grated
1tsp dijon musard
This is perfect for a picnic or packed lunches and will keep for several days in the fridge. You can even reheat it gently in the oven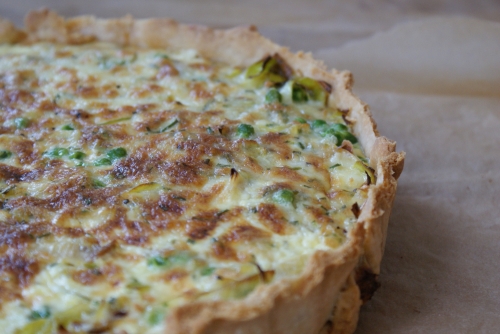 Pea and Leek Tart
Most vegetables benefit from being drenched in an eggy, cheesy custard and baked in a tart, sweet fried leeks and peas work particularly well.
Recipe
Line a 24cm tart or flan tin with the pastry and bake blind.
Boil a kettle and cover the peas in boiling water. Leave to sit for 5mins, then drain.
Meanwhile fry the leeks gently in the butter for 5mins until completely soft and pour in the defrosted peas, seasoning well.
Whisk the eggs, cream and mustard together with plenty of seasoning.
Once the pastry is cooked, tip the pea and leek mixture in and spread out across the whole pastry base, sprinkle over the cheese and pour over the eggy custard.
Bake at 190C 25 mins until the top is golden and firm to the touch.