Ingredients
4
4 salmon fillets (100-150g each is plenty)
1 bunch spring onions, sliced finely, all the way up to ¾ of the dark green bit
2 cloves garlic, sliced
Thumb sized piece of ginger, peeled and grated
1 medium red chilli - sliced finely crossways (don't worry about de-seeding) (optional)
1 small handful fresh coriander, chopped (reserve a few leaves for the finished dish)
2 tbp soy sauce
½ tsp fish sauce (optional)
Note as this recipe is written for three cooking methods, be aware that baking paper is not essential for all methods. If cooking in the oven, the parcel can also be made from foil (shiny side in), and in the microwave, place the salmon fillets prepared as above directly on a microwave proof plate, and cover with clingfilm before cooking as described in the recipe.

The rate at which the salmon will cook is dependent on the thickness of the fillet, so be flexible with the cooking time depending on the thickness of your salmon. If it's not cooked when checked, just seal the parcel back up and cook a little longer.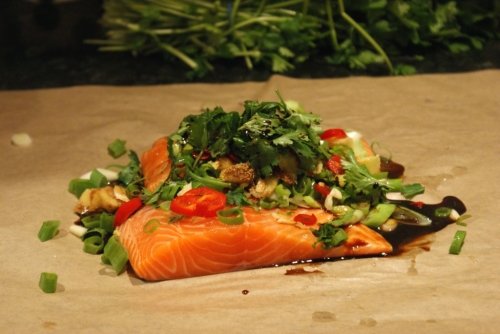 Steamed Asian Salmon
Salmon makes a great meal, full of healthy omega oils to help keep your brain in great shape.

Steaming is a really healthy way to cook, as not only does it mean cooking without adding any oil or fat to your meal but it means that more of the nutrients get eaten by you too.

If you don't have a steamer, please don't exclude this recipe - it can be cooked parcelled up in the oven on a tray, or even in the microwave.
Recipe
First, decide on your cooking method - if you're steaming/oven baking/microwaving, place your steamer basket/oven tray/microwave proof plate respectively in the center of your work surface. Roll a large piece of baking paper out onto your work surface - ideally about 70cm long.

In the centre of this baking paper (on top of your steamer basket/oven tray/microwave proof plate), place the salmon fillets side by side, with a 1 cm gap between them. Scatter with the spring onions, ginger, garlic, chilli and coriander. Carefully spoon the soy sauce and fish sauce (if using) over the top, making sure it doesn't run off your baking paper sheet. Bring the long sides inwards and scrunch and fold the paper along most of the length, without squashing your salmon. Now complete the parcel by bringing the ends together, again scrunching to hold. If you have enough paper, loosely tie the ends in a rough loop to secure. The idea is to keep as much of the liquid in as possible, including steam once you start cooking. Cook according to the below:



Steam - steam for 8-12 minutes in your steamer/steamer basket


Oven - Cook for 15 - 20 minutes at 180°C


Microwave - microwave on full power for 5 minutes


For all of the above, check the salmon is ready by carefully peeling back your baking paper and separating the flakes of fish on one fillet, in the thickest part. When cooked, the fish will flake easily and will be an opaque light pink colour.
Still Hungry?
Keep Searching...