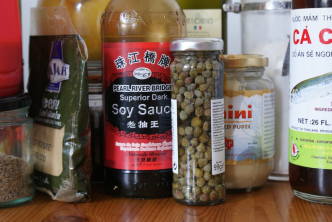 Storecupboard
Tips on what you should always have in the house
If you're just starting out cooking or are looking to try new recipes, its important to have a well stocked storecupboard, that way when you get in from work and can't face going out again, you can always make something from what's in the house. It also means that when you try out a new recipe, you don't have to buy a whole load of ingredients. The list may seem daunting and potentially expensive, but it works out cheap in the end, especially if you buy in bulk. The beauty is, is that they last for ages, hence storecupboard. Try buying spices, dried and tinned pulses, rice, from local ethnic food shops, they are often cheaper and better quality. The Covered Market is excellent for good quality oils, vinegars, pasta etc.
Tip:
Try to have a clear out every few months to make sure things aren't festering in the back of the cupboard.
Tip:
If you're a student, try and get your parents to buy your storecupboard ingredients for you at the beginning of term.
| | |
| --- | --- |
| | Try a vegetable box scheme if you want the freshest organic vegetables and fruit, delivered direct from farm to doorstep. |
What to keep in your storecupboard
peppercorns (for a pepper grinder)
chilli powder, as well as dried chilli flakes
cardamom pods
mustard seeds
smoked paprika
Ground cinnamon and cinnamn sticks
cloves
coriander seeds and ground coriander
nutmeg
vanilla (preferably vanilla pods), also vanilla extract
Grond cumin and cumin seeds
fennel seeds
Chinese five spice
saffron
Bouillon powder

mustard:dijon, wholegrain, english
oils:extra virgin olive, olive, sunflower, sesame
vinegars: red wine, white wine, balsamic, rice wine
tahini
flour:self raising, plain, corn
cous cous, bulghar wheat
rice: basmati, brown, arborio
dried pasta:lasagne sheets, spaghetti, linguine, fusilli, penne - some short and some long
noodles
pulses: canned ( we always several tins of chickpeas!), dried lentils, split peas
tinned tomatoes
baked beans
coconut milk
olives
nuts: pine nuts, cashew nuts, peanuts, pumpkin seeds, sunflower seeds, flaked almonds, walnuts
chocolate: 70% cocoa
cocoa
soy sauce, fish sauce, oyster sauce
anchovies, tinned mackerel
capers
Freezer: peas - always taste better frozen as well as broad beans unless they are very fresh