For Roast Chicken you will need...
1 free-range or organic chicken at room temperature
50g soft butter
2 fat cloves garlic, roughly chopped
1 handful herbs such as sage, thyme, rosemary, marjoram
1 lemon
Serves 4
Here's how...
Mmm... a classic roast chicken. One of the simplest things to make, yet so tasty and comforting. We cook our smeared in plenty of flavoured butter so you end up with deliciously moist meat. Try eating this with
cauliflower cheese
or a simple salad.
We always buy the best quality we can (see
food issuses
for more information) and eek out the whole chicken to get as many meals as possible.
See these tips from
Jamie Oliver
and
River Cottage
.
Method
Remove any trussing and giblets from the bird, give it a quick rinse inside and out, pat dry and place in a large roasting tin. Make two slices in the thighs all the way to the bone, this will allow the bird to cook more evenly so you end up with succulent breast meat and tender thighs.
Put the butter in a bowl with the garlic, herbs, salt and pepper and the zest of the lemon. squish th emixture together with your fingers.
Gently prize the skin away from the breast so you're left with a gap, squeeze half you butter in between and rub it all over the breast. Smear the remainder over the thighs. Cut the lemon in half, squeeze a little over the bird and put the rest in the cavity.
Place in the middle of a hot oven for 30 mins until the skin begins to crispen, now turn it down to 180C and cook for a further 40mins. You can tell the chicken is done by poking a knife into the chicken where the thigh joins the breast; the juices released should run clear.
Take the bird out and allow to rest for 20-30mins before carving.
Once you've eaten, strip every least piece of meat from the chicken, make sure you turn it over as there's usually a nugget or two of meat on the underside of the chicken.

Use this meat for salads, stir frys and sandwiches. Use the leftover carcass to make chicken stock. you don't have to do this all at once. We often chuck the chickens bone in the freezer to make stock at a later date.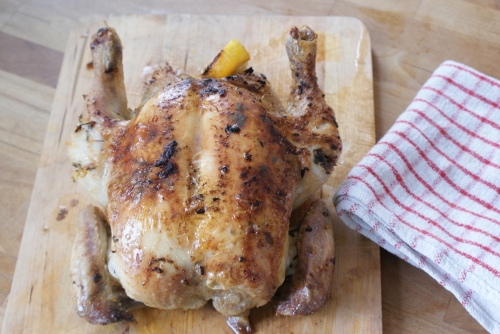 | | |
| --- | --- |
| | Try a vegetable box scheme if you want the freshest organic vegetables and fruit, delivered direct from farm to doorstep. |