For Shortcrust Pastry you will need...
200g plain flour
100g butter, chilled and cut into cubes
50ml iced cold water
Makes enough to line a 24cm flan tin
Here's how...
Making pastry is not as difficult as you might fear. They key of course is practice, so don't try making it for the first time when your making something for lots of people!
The other rule is to keep everything as cold as possible, cold butter, ice cold water, cold fingers and plenty of resting in the fridge as well as limiting how much you knead the dough.
This all stops the gluten in the flour becoming overworked and elastic so you end with a light and flaky pastry instead of a chewy one, it also stops the pastry shrinking too much in the oven.


Sift the flour to get really light pastry, tip it into a food processor or bowl and add the butter. If using the food processor, pulse until you get breadcrumbs, be careful not to overwork it, now add a pinch of salt and pulse to combine this.


If you are making the pastry by hand, rub the fats into the flour with your fingertips until you have the same result, taking care not to touch the butter directly with your fingers but always with a little flour in between.


Add 1 tbsp of the water and stir with a knife to start to bring the pastry together. Then use your fingertips to make the pastry into a ball, add more water, very carefully, until the ball of pastry leaves the sides of the bowl.


Wrap in clingfilm or put in a plastic bag, flatten to a thick disc and chill for 30 minutes.


Check out our guide on baking pastry blind.
You can keep your pastry, wrapped in clingfilm for several days in the fridge. It can also be frozen.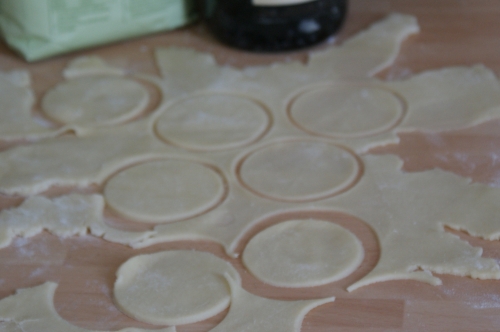 | | |
| --- | --- |
| | Try a vegetable box scheme if you want the freshest organic vegetables and fruit, delivered direct from farm to doorstep. |